Latest Launched Blackberry Q5 Smartphone Features
Jul 29, 2013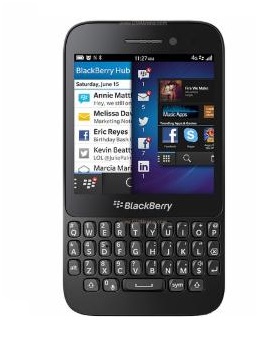 Mobile phone giant BlackBerry has added yet another member in its Q series of Smartphones, BlackBerry Q5. Taking a stand as the very first mid-range priced Smartphone from the company that uses the all new BlackBerry 10 Operating System. With the predecessors like the Z10 and Q10, this all new member seems to get well acquainted with the competition. Pulling the forerunners out of its way, BB has dared to launch its power packed performer to make the most out of everything. In fact, it is return to what has become as the BB's core market- dapper QWERTY build design and affordable! But the question is, will this new member in the BB family will break the cult? The answer still stands open ended, unless the all new beast hits the sales record like its first siblings.
Let's move on to figure out the actual functionality and tip to toe specifications of this new associate in the BB family.
Design and Build:
It sounds little too good to be true while talking about the design department of the Q5. The handset certainly draws a short straw with its dab luxury build. This could however be a generic point of difference between the new member and its predecessor, BB Q10. It comes handy and a slight plumped but the mere thickness mounts to 10.8 mm which is fairly good. Reflecting a pretty decent regular rectangular shape with arched edges make it quite appealing in terms of its aesthetic look and an embedded 3.1 inches IPS LCD capacitive touch screen on the top followed by a QWERTY keypad underneath makes a signature BB handset.
Crisp Display:
One might feel that the display screen is quite small as compared to other handsets available in the market with similar price tag but as a matter of fact, there's no compromise with the touch sensitivity and display clarity. Superb display quality set at a screen resolution of 720 x 720 with 16 Million colors marks a massive distinction. Since the screen size is quite diminutive, videos playback will certainly not offer a broad experience, so this particular case is almost out of the questionnaire.
System Interface and Memory:
Q5 runs on BlackBerry 10 operating system as found on its other cousins, Q10 and Z10. While under the hood one would discover a dual-core 1.2GHz processor which is pretty good in offering smooth multitasking and handling of multitude applications in one single go without any lags and holdups. Built in system memory mounts to 2 GB and the internal memory is of 8 GB. However, one can easily amplify the internal memory up to massive 64 GB by mounting up an additional microSD card in the memory card slot provided on the side of the handset.
Apart from the technicalities, one thing that is worth a shout for BB 10 is its BBM. At this instant one can use the legendary BBM for video or voice calling and can also share whatever is going on the screen, this is pretty neat to hook up with.
Camera:
The rear portion of Blackberry Q5 handset flaunts a brilliant 5 megapixels auto focus camera which is partnered with a 2 megapixels front-facing snapper. The rear snapper offers the basic features and functionality that one would expect, though the aspect ratio of 1:1 makes the shot look more natural. Whilst the front proves pretty decent for carrying out distortion free video calling in vivid clarity.
Should you go for one?
Truly speaking, if you're an old fogey fan of BlackBerry mobiles and you always wait desperately to have a hold onto a mid-ranged touch and QWERTY BB phones then Q5 would surely make you really happy indeed. Or if doesn't coincides with your savvy needs then you might look elsewhere. It's not that the Q5 is not a promising handset or has a bad profile; it's that it is quite expensive to be suited in the mid-range price tag.