Comparison of Samsung Galaxy Note 3 and LG G Flex
Feb 8, 2014
Today, devices are coming with many new features and flexible screens. One side where the big touch screens matter, other side, price and battery life also matter. If we compare two most brands, It would be really difficult to select one best as either of one will be different with other and this let you put in confusion. One would be best in features and OS than on the other hand second would lead in display and hardware. To provide better experience all the brands compare each other and provide the best for you.
Here we would compare the most recently launched brand model LG G Flex and Samsung Galaxy Note 3. Both of the brands have capabilities of providing their best to their customers but overall confuse the buyer. Two brand can be differ in most of sections like Features, Hardware, Display and screens, Software, Camera and others.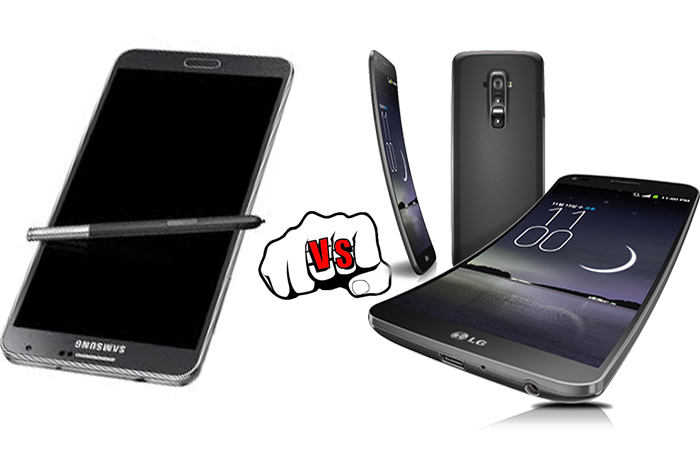 LG G Flex Vs. Samsung Galaxy Note 3
Design and Display:
If we compare the display of both the smartphones, then we would find that LG Flex has better screen display size of 6 inch with the resolution of 1280×720 while 5.7 inch screen size with 1920×1080 resolutions in Galaxy Note 3. It shows that where Flex provide the better user experience with bigger display, the Note 3 provide better resolutions and pixel density on the other hand. With display of Flux, the user can have bright picture quality but with Note 3, better sunlight visibility experience can be achieved.
Flex is provided with Scratch-resistant glass which makes it safe from scratches whereas the Note 3 has Gorilla Glass 3. In Flex, the OLED screen is used in which every pixel has 3 sub-pixels that provide the sharp and better picture quality, on the other hand, Note 3 has AMOLED screen panel in which only one sub-pixel is shared to one pixel and thus reduce the image quality. In flex, the real panel will heal its back panel itself if you scratch it with brush or knife.
OS Hardware and Features:
If we compare the OS and hardware then we would found that Flex has quad-core processor 2.2GHz Snapdragon 800 having android 4.2.2 jellybean OS while Note 3 with 2.3 GHz Snapdragon 800 supporting android 4.3 jelly bean OS. Also Note 3 has Hexa core whereas the Flex has Quad core GPU. If we include the RAM Memory, then we can say that Note 3 (3GB) has more RAM Memory than Flex (2GB).
Internet and Connectivity:
As Flex is provided with LTE, it can load web pages fast in compared to Note 3. With 4G connectivity of Flex, we can get the speed of 150Mbps but would get just 42.2Mbps speed with 3G HSPA connectivity of Note 3. The Note 3 is DLNA certified which allow the other devices to connect on the same network and transfer the data easily. Note 3 support the 802.11ac WiFi connection providing 5GHz frequency and offer improved power consumption and reliability. Note 3 support USB 3.0 that helps in transferring the data fast compared to USB 2.0. Note 3 are also provided with support to CMOS sensors that reduce the power consumption and provide better image quality.
Camera:
Flex is provided with more megapixel front camera that provides better picture quality. Its curved display provides the user a better view of display while this lacks in Note 3. To detect the camera vibrations, the flex supports the Optical Image Stabilization that helps in adjusting the optical path. Support to Flex has the better rear camera resolution of 13MP (4160×3120) that provides better image quality.
Battery:
The battery power of flex is 3500mAh and is on non-removal type whereas the Note 3 has 3200mAh capacity battery that is of removal nature means we can replace the battery if needed. The battery back of Flex is 1-2 days if we use as 3G calls where it is about 1 day in Note 3 on 3G calls.