Must-Have Apps for a Successful Meeting
Aug 3, 2018
Planning and running a successful and productive business meeting has always been a tedious and difficult process. We believe good preparation is the key. Meetings are crucial for the success of the whole business since they are the place where goals, new ideas, plans, and projections are communicated.
Since we know the importance of business meetings now, what do you think about using some tech that can help your meetings go smoothly from start to finish? There are plenty of apps available on the market that promise to do that exactly, but finding the right ones can be time consuming. So you wouldn't have to, we did research and here are 5 of our favorite meeting-oriented apps that can be great for executing, planning, coordinating and following up on meetings.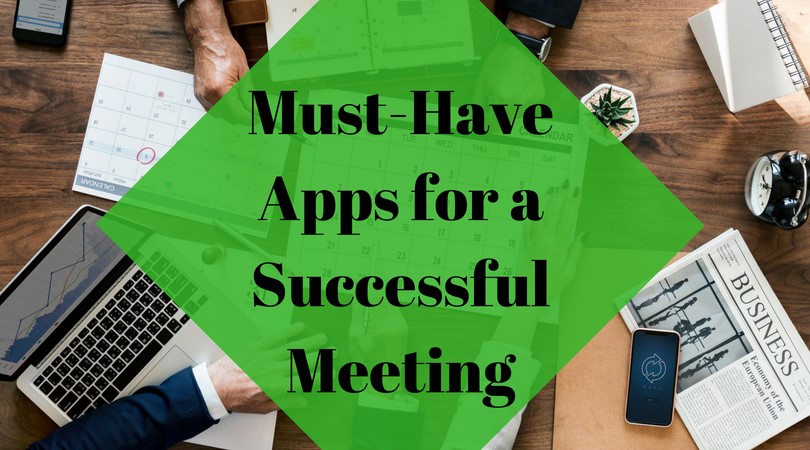 Doodle
With all the phone calls and emails flying back and forth, scheduling a meeting can be a real hustle. The one app that will help you overcome that problem is Doodle. It is a scheduling app which lets you collectively ask participants what time works the best for them so you could successfully organize a meeting. You could propose several options which would then be sent over to your colleagues via email, Facebook Messenger, WhatsApp, iMessage or SMS. The only thing they have to do is to choose the option that fits them best. The app will do the rest, it will define a time for a meeting, and it will send out the verification messages.
Price: Free
Available on: Android and iOS
Time Buddy
This app is a great complementary app to previously mentioned one. If you work for a multinational company there is a good chance that people who participate in your meetings are from various locations all over the world. This could be a serious problem since it is hard to find the appropriate time to schedule meetings. Time Buddy lets you enter all the time zones of your colleagues and it will then automatically find overlapping times that could fit everyone.
Price: Free
Available on: Android and iOS
PDF Converter Ultimate
Sometimes there are some last minute needed changes just before or during the meetings. Maybe they are some spelling mistakes, potentially misleading information or just bad text formatting. In any of these cases instead of leaving out some of your files or promising to fix them later, you could easily adjust them right on the spot. With PDF Converter Ultimate app, you can convert PDFs to more than 20 popular file formats for easy editing on the go. The app provides excellent conversion quality outputs even with scanned documents. You can convert documents directly from your phone, Gmail or supported cloud services.
Price: Free
Available on: Android and iOS
Trello
When it comes to managing and organizing projects Trello is the app to go. You can create different, as they call it "cards" or to-do notes, where you can collaborate with your colleagues. You can even add to your cards Dropbox or Google Drive files, videos, and photos, too. Trello can be very useful in meetings since you can use it to assign tasks and keep track of what needs to be done afterward. You can also use it as an interactive to-do list that can be shared with your coworkers. Basically, you get two apps in one.
Price: Free
Available on: Android and iOS
Otter
It would be great if you could run and transcribe meetings at the same time, but usually, you will need to hire one extra person for the transcription job. Sure, you could record the whole meeting, but afterward, you will spend twice as much time transcribing it. If you want to save time and money, Otter is the app you should definitely use on your next meeting. The app uses a powerful AI to help you easily record and review your meeting conversations. It automatically recognizes different voices, transcribes them and even adds names next to someone's text. The conversation interface looks like a group chat. You can even conduct a deep search for words and phrases.
Price: Free
Available on: Android and iOS
The continuous headache of scheduling and organizing meetings will never completely disappear, but with the help of these apps, you could at least ease the whole process. You should give these apps a try and believe us, you won't regret it. Let us know in the comments below what apps do you use on your meetings and how does your scheduling process looks like?