iPad Air 3 to be Released Soon?
This September event of Apple that took place on 9th September, 2015 announced a newer and bigger iPad – the iPad Pro. Many people had seen this tablet coming, a bigger iteration in the Apple's tablet lineup to beat the counterparts from Android. Now that the newer innovation has been showcased, how about the usual line of tablets? As of yet, we haven't heard anything about Apple discontinuing their 9.7 inch range of iPads hence we are expecting the iPad Air 3 to be released anytime soon.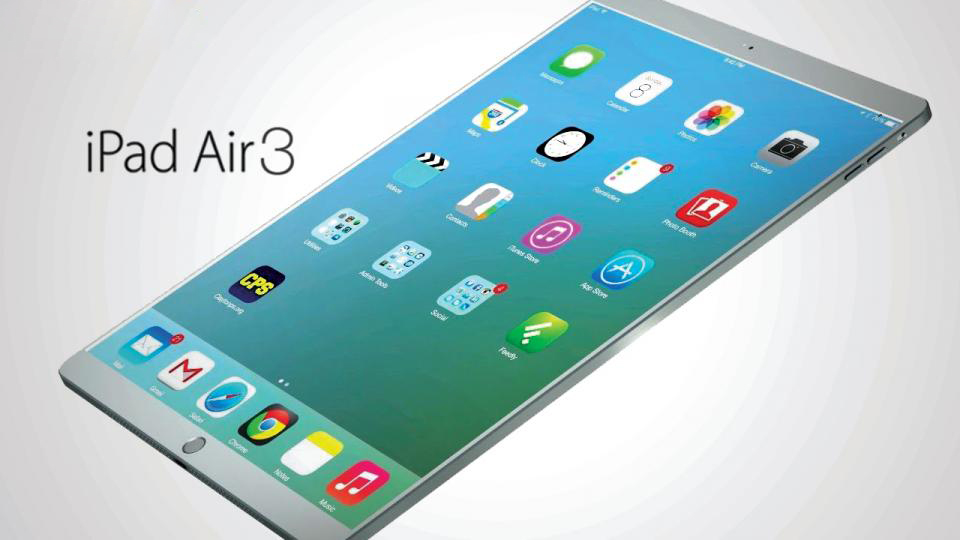 iPad Air 3 Release Date
There's no specific release date for iPad Air 3 release yet. Apple's consistency in releasing new devices is appreciable; even the latest iPhone 6s and iPhone 6s Plus had been released on the September event keeping the schedule trend alive. However, it's not common that Apple holds two events in a closer time frame to release two entirely new devices. iPad Air Pro could be the iPad of 2015, whilst the iPad Air 3 may get delayed for another year; that's 2016. As there is no announcement regarding another Apple event pretty soon, we are expecting the iPad Air 3 to be released on September 2016.
Another set of leak sources claim that Apple may finally discontinue their 9.7 inch tablet lineup and continue with the extremely bigger iPad Pro and smaller iPad Mini variants. This doesn't make much sense as the market winning size is the original Apple iPad and its descendants – discontinuation will result in customer dissatisfaction.
Specs and Features
Nothing has been released regarding the iPad Air 3 yet. As the tablet didn't physically exist until September 2015, we couldn't gather any reliable information that we could preach. However, as the device developments trends are kind of predictable now, we could surely make some bold assumptions about this upcoming tablet. Not all of these would necessarily be accurate; but could be close.
About the chipset, the next iPad Air would most probably flaunt the 10th generation of Apple CPU. It could be named A10X same as iPhone 7, or something else if Apple feels that the two digit decimal number is impractical for a CPU's naming. The iPad Pro has a CPU that's 80% faster than the computers that exist today – according to Apple. This being said, the next CPU would be again 80% faster than the computers that exist in the market by next year; if Apple could keep up their exponential rise in CPU developments.
Excellent optimization is the key to Apple device smoothness. This is the reason why Apple devices don't need higher amount of RAM to be fast; however, 3 GB RAM should be standard on portable devices by 2016 as more RAM means more apps running simultaneously with minimal or no lag at all.
The base memory variant for Apple devices now is 16 GB, the mid-tier 32 GB version has been discontinued by the company where it should have been the other way around. On the higher side, we expect up to 256 GB of storage capacity.
Pricing
As of last year, the iPad Air 2 had a base price tag of $499. The new tablet should have the same price tag for the base model and $100 increment for each storage variant upgrade. However, there could be changes in the pricing anytime.
Conclusion
It's difficult to be optimistic about a tablet that doesn't theoretically exist yet. But speaking of Apple's reputation, the forthcoming iPad Air 3 should be a success like the predecessors.