iOS9 Might Bring Some Noticeably Big Changes
Jun 18, 2015
The next iteration of Apple's smartphone and tablet OS is probably going to be named iOS 9, like every previous version of it. The next latest and greatest iOS is still a very long time away from arrival, but the clock has already started ticking for the rumors. The developer's preview would release sometime in the Q2 of 2015, though. A new iOS usually releases with a new iPhone; hopefully with iPhone 6s this time if Apple doesn't want to make an exception of any type this time. However, experts expect few major changes in the upcoming iteration since technology has taken a remarkable elevation and needs to be developed from inside the core; which requires a software upgrade as well.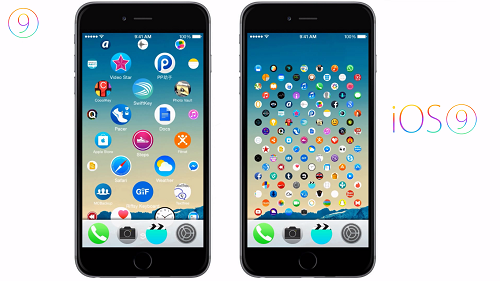 What could be the Changes in iPhone 6s?
Since the next iOS, in this case the iOS 9 is going to ship with the iPhone 6s; we should be considering probable hardware changes in the iPhone 6s. There would definitely be a new, more powerful processor; but could there be a change in the RAM?
Yes, there could. Some sources have been saying something about 2 GB RAM. Apple devices are usually very fast with 1 GB of RAM; but the apps are constantly getting more powerful and require more resources to run smoothly.
More memory and power would require an ecosystem that distributes the power equally over different parts. Apart from visual facelifts, iOS 9 would probably make the necessary performance adjustments in the new iPhone, iPad and iPod Touch. And for previous generations of these devices, there would be necessary modifications as well.
Apple to follow the Existing Cycle
No, it's just not the rumored RAM upgrade that forces Apple to bring a change in their iOS operating system. Even with the current kernel and basic firmware, a higher memory would be well served with. However, to meet the user and apps' needs in the following years, every company including Apple has to bring fundamental changes in their operating systems in the following years. Apple is mostly the pioneer to many recent technological innovations; they might as well lead the path to software development in a different level as well with iOS 9.
iOS Update Trend
Every new iOS comes with different types with features. Basically, iOS 5 and iOS 6 were the ones to bring the basic level of smartphone operation we see today. And later on, iOS 7 was the torch bearer to a visually impressive and more appealing iOS. Unfortunately, iPhone 4 and previous generations were no more able to run the iOS 7 due to technical handicaps.
iOS 9 would probably leave out iPhone 4S out of any further updates. iPhone 4s still runs an A5 chip with only 512 MB of RAM which is highly obsolete considering the present smartphone market. Chances are, 512 MB would soon be considered unfit for most apps to operate properly.
Speaking of visual changes; major changes have been implemented in iOS 7. There might be few new additions, but most likely nothing ground breaking is going to happen in this end.
Conclusion
Even though these rumors doesn't really sum up in a decision whether we are going to have a hugely different iOS 9 or just a major upgrade; but they set a standard for what to wonder for the upcoming iteration. We would expect Apple releasing few insights on the next iOS before Q1 of 2015 ends.
Author Bio: An B.Tech, a Young idiots and Owner of Idiots Monkey. Prakash is hooked to Blogging. Trying to keep pase with ever-changing Blogosphere