Fitbit One: A Perfect Wearable Ensuring Best Fitness
Feb 15, 2015
Fitness is not just a masculinae body, or a shape that suits the glam activity. It's much beyond this; in fact it's a whole mindset. It's a healthy way of doing thing that should reflect your lifestyle. If you are someone with such thinking and looking for something that can guide you perfectly on your way, then the Fitbit One is a terrific option for you.
A Nice Product That Observes You Even When You Are Unconscious:
Being specific, this is a very good product for the beginners. Starting from counting your steps, measuring the distance you covered, to amount of fat you lost. It gives you all report. Even during night, the one detects the kind of sleep you had last night. It suggests better ways of sleeping better, and makes you awake in early morning. In short, it's a friend available 24 x 7.
Size never matters; despite being a tiny stuff it is thoroughly efficient. It has been perfectly developed in a way to keep you fresh through useful and practical tips. Beneficial sides of healthy activities like using steps, or a good walk are explained in a smooth yet useful way.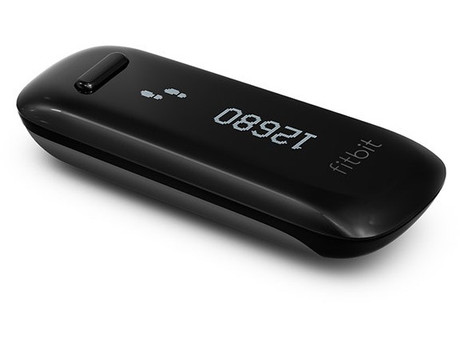 Enhanced Accelerometer Technologically Advanced:
It is a technologically revamped product motorized by Fitbit's enhanced accelerometer and altimeter. The best part about the product is that it reports in a pretty exact and specific way unlike the older generation products those talk in an overall manner. Another great part is that it never takes a break, thoroughly observing your each activity.
Perfectly Wearable:
It's like a good friend. You just need to fix it like a wrist band and it observes from there regarding your sleep quality, the number of times you got disturbed while sleeping, etc. You can learn about better ways those can offer you a better sleep. Unlike conventional alarms it never makes a loud sound to wake you up. Rather, there remains a silent alarm that does simple vibrations to make you wake-up at your wished time. It means, the person sleeping by you also doesn't get disturbed.
As we have mentioned, the product is just too flexible that can be fixed over your pocket, belt, T-shirt in safe way. There is a powerful battery that can play for ten to fifteen hours at a stretch. Well, it's pretty strong as well being water, sweat proof. During night you can take the help of wrist bands.
Immediately On A Roll:
It functions in a great way that can be synchronised with your systems, Macs, Apple or android products. You just need to sign-up to a free account of Fitbit.com site and register. Yes, this can be facilitated through your smartphone as well. The sooner you make this happen, sooner you enjoy the facility. You can now enjoy the great information, statistical report of your health over the dashboard.
Perfect Presentation:
The product is packed with graphical presentations, charts; applications made finely for you to manipulate you're advancing and judge your health. There is flexible dashboard and smartphone application that offers the finest experience. As much as you advance in terms of your health, the product gets more beloved for you.
Author Bio: Abhilash Thakur is the founder of fitbitsreviews.com who has a keen eye on news, rumors around Fitbit. You can check the latest fitbit coupon and fitbit reviews.