Daily Job Updates Straight to your Phone
Apr 27, 2017
Real time job opportunities straight to your phone is what you can expect with quality job posting apps. By downloading such applications, you can have instant updates sent to you directly when job opportunities arise in a given category or location based on your employment needs. See new jobs arrive daily as you prepare for a career change or in efforts to move up in your chosen career path.
Real Time Job Opportunities Straight to your Phone
Download StepStone Job App to have access to real time employment opportunities via your mobile phone. The leading free job exchange provides you with instant notifications of current job vacancies in Germany, helping you to find a job that you desire. The unique job portal offers quick and easy mobile access to job opportunities in your current location or nearby. Search whenever you like and have updates sent to your mobile daily so that you can apply for new positions as soon as they are available.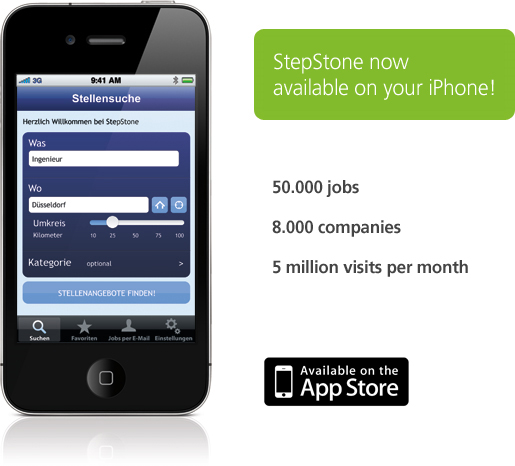 First-Class Job Choices
Once you begin using this iTunes job app, you will find that with more than 50,000 jobs available, there is no shortage of opportunity at your disposal. By using the intuitive features of the application, you will be able to find your dream job, working your way up in your given career field. Use the job note function to keep notes on your job selection or the Job Alert function, which allows you to never miss a chance at the best job in your industry.
Successful Application Process
From the StepStone app, you can easily send an application to a potential employer with the help of cover letter templates and more. Use every feature the app provides in order to have a successful application process and land the job of your dreams.