New Ubuntu Phone : Possible Release in October 2013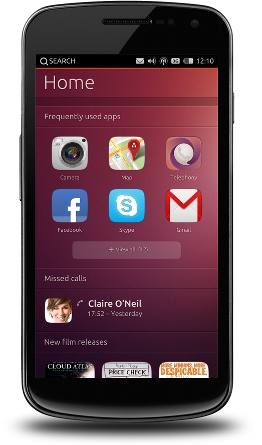 Things seem to be going very well for the Open Source community right now. Steam for Linux seems to be turning out quite well with gaming heavyweight publisher Blizzard promising to release a big title on the Linux platform this year. This will be a big boost to Ubuntu's creator Canonical which has been trying to push Linux towards the mainstream computing world.
But Steam is not the biggest news in the world of Linux right now, it is the mobile version of the Ubuntu OS which is in the headlines. Ubuntu has managed to come out with something completely different from what's out there in the market right now. The Ubuntu Mobile OS comes with the Unity interface, something that Canonical was developing and perfecting for a long time. Those who have seen and used the interface had only good things to write about, at least for the mobile version, the desktop version of the Unity desktop has however been booed a lot by hardcore Linux users who were shocked to see their favorite Gnome desktop environment removed in favour of the Unity interface.
But if you are getting ready to shell out your money for the Ubuntu phone, you have to wait a little more. The Wall Street Journal which cites Canonical founder, Mark Shuttleworth as the source of the information has announced an October release date for the phone. The phone will be available in two large geographical locations, though it is not known which those places are yet.
Though it cannot be confirmed when exactly the phone will be released, the phone will attract developers a lot thanks to it's true open source nature which could be the real selling point of the phone. Canonical has also promised that applications like Gimp which are already working on the desktop version of the OS will work on it's mobile version which brings out the possibility of other Ubuntu and Linux programs being ported to the mobile OS. This will give the phone a good list of applications to attract users with. Hopefully, it won't wind up like Windows 8.
The release of the Ubuntu phone will come at a time when Mobile operating systems will be at loggerheads with each other. Ubuntu has to fight off not only Android and iOS but also Windows, Blackberry, the Gecko OS and possibly two other operating systems.
But considering it's popularity among linux enthusiasts and users, the Ubuntu OS could actually beat the competition and from the developer version of the phone that has been made available so far to developers ( a Galaxy Nexus running the OS), it looks like that the Ubuntu OS could be a hit with both Linux and non-Linux users. But everyone has to wait till October to find out how big Ubuntu will be.