New HTC Unveils New Flagship Smartphone to Combat Apple and Samsung
Jun 1, 2013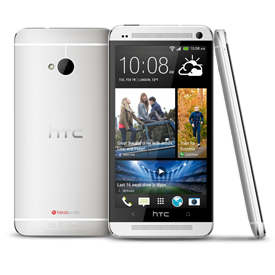 HTC unveiled it's newest phone, the HTC One simultaneously at press events in London and New York today in order to combat the dominance of the Galaxy range of phones that seem to have dominated the Android market.
The new phone has a resemblance to the iPhone5. The body is made out of aluminum and comes in two colors, white and black, it even goes to the extent of copying the external wireless antenna of the iPhone 4.
The HTC one comes with an Ultrapixel camera that has low-light capabilities along with a UI feature called the Sense5 UI that has live-updating features for it's content feeds. The Android OS that is running on the One has been completely customized and the result is unlike any other Android OS out there. The focus of the phone is mostly on the UI of the phone.
Coming to the hardware, the one comes with a quad-core Snapdragon 600 chipset that runs at 1.7 GHz and 2GB of RAM. The phone has a 4.7 inch 1080p super LCD with a 468 dpi resolution. You will be shocked to read that the phone comes with a 4 mega pixel rear camera but HTC didn't mess up, the camera has a BSI sensor along with a f/2.0 lens that combined can collect more ambient light than any other camera around. This will assure that videos and photos will look great even in low light conditions. The 2.1MP front facing camera is capable to taking 1080 quality videos. Finally, since it has drawn inspiration from the iPhone, the phone comes with Gorilla Glass 2 which will make sure that this phone never breaks that east.
The Blink Feed which is the highlight of the phone is what the Taiwanese company is betting it all on. Peter Chou stressed on the importance of the Blink Feed UI being the highlight of the phone and announced that upto some 1,400 content sources have already been signed, Tim Armstrong, the CEO of AOl was also present during the announcement in London along with Chou to help market the phone better to buyers.
From what has been seen circulating on the internet so far, the phone has already quite a lot of fans who are bowled over by it's interface and the slim and sleek design along with it's personalization features. but only a hands on experience will reveal how great the phone is and will it be worthy of being called the iPhone killer by many at this time.