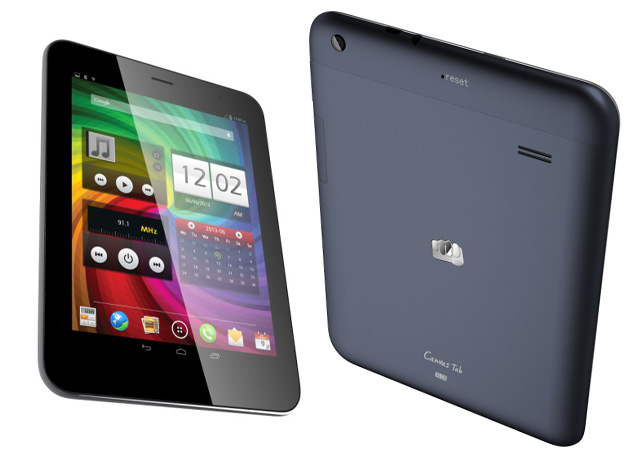 Now time to flaunt yourself with the cool new and one of the most remarkable canvas tab. Micromax's Canvas Tab P650 is a tablet with 8-inch display, which has been dominated by Apple and Samsung for quite some time now. And can the Micromax Canvas Tab, the company's first 8-inch tablet. Make your world in a slim, sleek and easy to carry Canvas Tab. Have immersive conversations with your friends and family and let the talks never stop.
Design/ Build
The Micromax Canvas Tab is built along the lines of Micromax's high-end smartphones. Canvas tab looks like bigger version of funbook. The tab will be available in two colors: blue and white. It comes with a glossy screen and therefore attracts more than a fair share of fingerprints; we would recommend carrying a cloth to keep cleaning it. Apart from the screen, it's front houses a 2-megapixel camera placed in one corner alongside the earpiece that sits in the centre.
Display
The Micromax Canvas Tab comes with an 8-inch IPS display with a resolution of 1024×768 pixels, that translates to a pixel density of 160ppi or pixels per inch. The display resolution of the Canvas Tab is comparable to Apple iPad mini (1024×768) but lower than some of the 7-inch tablets which are available at lower prices, like as the Nexus 7 (2012) and Kindle Fire HD, that have a resolution of 1280×800 pixels.
The Micromax Canvas Tab's display is crisp enough to make reading comfortable and we enjoyed watching video on the bright display thanks to the accurate colour reproduction, and deep blacks.
The Canvas Tab supports wide-viewing angles which mean users are not required to hold it in an exact sweet spot for the best viewing experience. It also means playing games that utilize the accelerometer won't get spoiled by occluded views and distorted colours. We noticed that the screen is very reflective and this hampers visibility under the sunlight. The touch sensitivity of the Micromax Canvas Tab is decent and we did not encounter any issues while using the tablet. And considering the price of the new Micromax's tablet, that we expected company could have gone for a better display panel with higher resolution
OS and Processor
Android Jelly bean version 4.2.1 out-of-the-box and has OTA (over the air) support for updates. This tablet is powered by a quad-core processor clocked to 1.2GHz with 1 GB of DDR3 RAM.
Hardware
The Micromax Canvas Tab P650 has an 8-inch IPS display with a resolution of 1024×768 pixels. The tab packs a 4,800mAh Li-Ion battery that is rated to deliver up to 5 hours of browsing time is up to 10 hours of talktime and up to 400 hours of standby time. The Tab supports 3G via a SIM card slot and is capable of voice calling.
Camera and Memory
The Micromax Canvas Tab P650 has a 5-megapixel rear-camera with autofocus and a 2-megapixel front-camera. This rear-camera is capable of recording 720p HD video. This tablet has 16GB of internal memory and the tab's memory can be expanded via microSD up to 32GB.
Media and Connectivity
The Micromax Canvas Tab P650 has features like Pop-up Browser, Video Pinning, Look away to Pause video. Micromax Canvas Tab P650 comes with pre-loaded apps including, Music Hub, Spuul, M! Security and Opera Mini. This tablet has a FM radio, music player, games and ringtones. Micromax Canvas Tab P650's connectivity options include Bluetooth, Wi-Fi, 3.0, EDGE, GPS, GPRS, USB 2.0 port and 3G.