Google is famously known for its Android application and its updates. Android is most selectable branded OS application which it known for its best. Every time Google launches its new updated android version, it gives a unique food name to it. This time Google has launched its new version Android 4.4 on 14th Oct 2013 which is named as Kit-Kat. The aim of Google after launching its 4.4 Kit-Kat is to enhance the OS so that the devices having very lower configuration can run it very well.
Enhanced Interface:
To make good interface, the Google has removed Jerkiness part from Kit-Kat. If you are reading a book or playing games, you can have them all center by hiding everything others with Immersive mode. You have to just swipe the edges of the screen and you will get back access to your status bar and navigation buttons.
When you want to search something on Google, you just have to say "Ok, Google" rather than touching the screen. The Kit-Kat is presented with Voice Command support to search, send a text, play songs and even get correct directions.
OS Hardware and Features:
As the android always comes with new features, there are some very unique features that will add a plus point in the market of android.
Cloud Storage: The one of the most remarkable feature of the android is its Cloud system that allows user to store their working files online and then you can synchronize the information.
Introduction to Chromium Web-View: While there is a most comparison world of web, the support to HTML5 and CSS with JavaScript will add an advantage to developers with Chromium web view tool.
Screen orientation: With its new fragment, the user will find a better and enhanced user interface. The new 4.4 will get you rid of blue color by providing new tastier Pallet Color theme and will provide you better response and smoother performance.
Screen Recording: Android Kit-Kat will let you record the videos directly from the screen with display's aspect ratio. When you will record videos directly in MP4 format having different resolution and bitrates, you can build apps tutorials, how-to guide reports, design features showing videos and others.
Print and Access Anytime: If you have any connected printer available in Google play store, you can print any document, photo or web page any time. With Kit-Kat, you can create and edit you your documents and presentation by having a new redesigned Quick Office feature.
Wrapping Messages: Kit-Kat allow you to have all your messages at one place weather they are sent by chatting or by other way. Its new hangout app allows you to have all your SMS and MMS at one place along with your video calls conversation.
 Improved Security: The Kit-Kat version is provided with many security features. With Smarter Caller ID, you can find any business just like Google Map. In Kit-Kat, the bugs related to wireless communication, Camera and Bluetooth are fixed.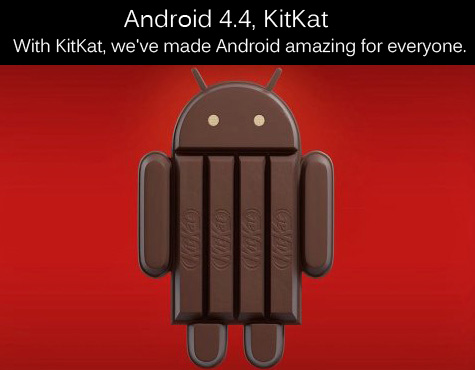 Connectivity:
You would find a better and improved mobile and peripheral devices connectivity with Kit-Kat. It is provided with Bluetooth Mac support with which you can send messages between android devices and other devices. With HOGP(Bluetooth HID over GATT), you can have link with low-powered peripheral devices.Its application protocol interface allows you to have such apps that can remotely control the electronic devices.
Battery Standby with Better hardware support:
Its hardware integrated sensors will improve the battery life. Its various sensor events like Location Tracking, Advanced Motion Sensing, and Vocal Recognition are collected processed periodically and make the phone idle when not active and improve the battery life.
Others:
While you are having an apps developed old Web View, you can even use them with Chromium Web view without extra cost. The applications are being enhanced in Kit-Kat. If I say about global network coverage, the connectivity can be found anywhere. Phone Configuration having 512 MB RAM can also support Kit-Kat. Low-power sensors make the phone Ideal when no active.